Carroll Hospital's mission is to be the heart of health care in our communities. Meet Jordan Trumpower, registered nurse health navigator, and learn why she enjoys working at Carroll Hospital: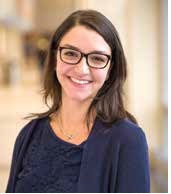 I work with such a great team. They make coming to work enjoyable! Carroll Hospital has a very friendly and welcoming environment. There are familiar faces everywhere, and someone will always smile or say hi to you when you walk through the hallways. I felt welcome here as soon as I started.
We also have many opportunities to interact with leadership and are able to ask questions openly. I've lived in Carroll County my entire life, so I really enjoy working with and helping people in our community.
Interested in working at Carroll Hospital? View our job opportunities.