With the arrival of warmer weather comes the influx of late spring and summer fruits and vegetables.
Next Thursday, June 22, marks the opening of the Carroll Hospital Farmers Market, so stop by from 12:30 to 4:30 p.m. to stock up on fresh veggies!
Why shop at a farmers market?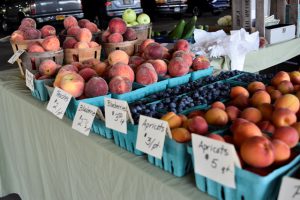 Taste. Nothing beats the taste of locally grown fruits and veggies!
Freshness. Buying produce from a local farmer ensures fresh, in-season produce picked at just the right time. Bonus: you're able to have a conversation with the person responsible for growing your food!
Fruits & veggies are good for you! Most fruits and vegetables are naturally low in fat and calories for weight control and are a great source of vitamins, minerals and fiber. They are also rich in phytochemicals and antioxidants that can promote health and may reduce the risk of cancer, heart disease and other chronic diseases.
Variety. Pick out a new fruit and vegetable each time you visit farmers market, or try a different type of your favorite produce. Substitute sweet potatoes for white potatoes, parsnips for carrots, spinach for iceberg lettuce or broccolini for broccoli.
Looking for ways to eat more fruits and vegetables? Make them part of every meal and snack. Start your day off right by adding berries or bananas to your breakfast cereal, yogurt or smoothies. Add fresh mushrooms, spinach, peppers or tomatoes to your eggs or omelet. Place a bowl of fresh fruit in your kitchen or office for a convenient snack. Cut raw veggies such as carrots, celery and peppers into sticks and store them in the refrigerator. Add a healthy dip such as hummus or salsa for a quick snack or appetizer. And don't forget to check out the healthful recipes posted each week on our blog!
Hope to see you next week (and every week) at our farmers market!