Congratulations to Mark Goldstein, M.D., named Carroll Hospital's 2018 Physician of the Year!
On Tuesday evening, Carroll Hospital celebrated our medical staff at our annual Doctors Day event.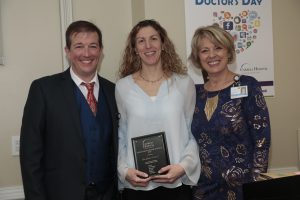 Our Physician of the Year is selected from our 12 Physician and Provider of the Month recipients. Each recipient exemplifies our SPIRIT values — Service, Performance, Innovation, Respect, Integrity and Teamwork — and provides outstanding care to our patients.
Dr. Goldstein is the interim chief of emergency medicine. He has been recognized numerous times by patients and staff alike for the caring and attentiveness he gives to his patients, and he has been described as kind, compassionate, professional, thorough and reassuring.
New this year was the presentation of the Advanced Practice Provider of the Year award. Advanced practice providers include physician assistants, nurse practitioners, nurse midwives and nurse anesthetists – and we have 106 of them on our staff!
Physician assistant Kim Baker was named as our inaugural Advanced Practice Provider of the Year. Baker is the director of adult hospitalist and ICU services, and she works tirelessly to provide quality care for our patients.
Physicians and providers who are celebrating milestone years of service to the community were also specially recognized during the event, including:
35 Years
John Middleton, M.D., Family Medicine
Natvarlal Rajpara, M.D., Sleep and Respiratory Medicine
Martin Weintraub, M.D., Ophthalmology
30 Years
Philip Konitz, M.D., Hematology/Oncology
Michael Rosner, M.D., Pediatrics
Hafeez Syed, M.D., Cardiology
25 Years
Flavio W. Kruter, M.D., Hematology/Oncology
Alfred W. Lee-Young, M.D., Gastroenterology
Sharon E. Marlowe, M.D., Pediatrics
David A. Zimrin, M.D., Cardiology