Registered Nurse Abigail Buckwalter has worked at Carroll Hospital for a little more than a year, and she says working here is very special to her for a number of reasons.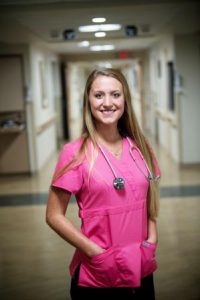 Her great-grandmother was part of the door-to-door effort to raise money to build the hospital, and Abigail was born in The Family Birthplace. "I feel like I have a special connection with the hospital," she says.
Abigail knows what it's like to have a family member being cared for in the hospital. "Unfortunately I have had multiple family members who have been patients at Carroll Hospital, and the staff took superb care of them. I am forever grateful.
I am happy to serve Carroll as a nurse," she says. "I enjoy seeing the smiles of patients when they finally get to go home and are feeling better. I love seeing my patients healed and well outside of the hospital."
Abigail has this advice for those who are starting their nursing careers: "Don't ever be afraid to ask for help. If you don't know something, there is always someone willing to help you. Being a nurse isn't always easy, but it is so rewarding, so just stick with it!"
Interested in working at Carroll Hospital? Visit our Careers page.