When Deanna Dobry went to Carroll Hospital for a routine test one Friday afternoon, she had no idea she wouldn't be going home that day.
Seven months pregnant — and with her blood pressure rising — the test revealed she had preeclampsia, a serious pregnancy complication. Dobry remained in the hospital over the weekend until they couldn't wait any more. That Monday, doctors decided to induce her in order to protect her health and the health of her baby.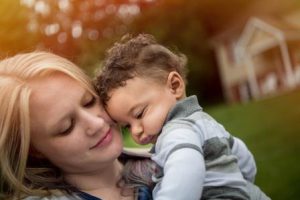 Born just shy of four pounds, Dobry's son, Jamonte, remained in the hospital for nearly two weeks. Dobry, who had been discharged before her son, visited him daily.
"I couldn't leave him all day. I just couldn't do it," she says. "Fortunately, I live close to the hospital, so I could visit him at least four or five times a day. But it was definitely a lot, especially with my blood pressure still being up and down."
All the stress led her to wonder if there was some way that would allow her to be with her son during this difficult time. Soon, there will be.
As part of its upcoming Family Birthplace expansion, Carroll Hospital is set to become the first hospital in Maryland and only the second hospital in the nation to offer families couplet care for babies requiring extra care.
Developed by the Karolinska Institute in Sweden, couplet care is designed to keep babies who are born prematurely or who require specialized care together with their mothers for as long as the baby is hospitalized.
This model of care delivers numerous benefits, including decreased length of stays, faster recovery for the infant and stronger family bonds.
"When parents can stay with their baby 24/7, they are much more comfortable when it's time to take them home," says Linda Grogan, executive director of women's, children's and surgical services at Carroll Hospital. "Nurses become the coaches, and parents become the caregivers."
Presently, babies who are ill are separated from their mother and placed in Carroll Hospital's level II neonatal care unit, which is designed for babies born as early as 32 weeks and other high-risk newborns.
"Often, babies who are placed in the neonatal care unit would be better off staying in the same room as their mothers," says Cynthia Roldan, M.D., chief of pediatrics at Carroll Hospital.
"And that is what we are going to do—keep babies who require care with their mothers, as we already do with babies who don't have health concerns."
In addition to adopting the couplet care model, the expansion and renovation will include all new, beautifully appointed rooms, a family room for parents staying with their newborns and new operating rooms. A dedicated entrance and parking lot for The Family Birthplace is also part of the $13.5 million project.
The expansion is expected to be completed in the next two years and has already generated more than $3.6 million, with contributions from the Kahlert Foundation, the Carroll Hospital Auxiliary and a State of Maryland grant administered by the Maryland Hospital Association.
For Dobry, the couplet care expansion is exactly the solution she imagined all those days she was apart from her son. "Luckily, Jamonte didn't have any real problems, aside from being born early," she says. "He's doing great, he's gaining weight and growing. He's a happy, healthy baby."
Support our community's littlest ones.
Go to CarrollHospitalCenter.org/Giving to make a gift to The Family Birthplace expansion project.