The simple gestures are the ones that Chris Krebs still remembers. The back rubs and gentle words from Carroll Hospice's staff as they positioned her mother each hour. The Big Band CDs at Dove House that she was able to play for her father. The respite care that allowed her to recharge and sleep in her own bed.
For Bob and Chris Krebs, of Westminster, Carroll Hospice's care helped to ease the pain of losing a number of loved ones over a short period of time.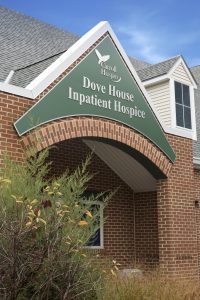 Chris' parents had been in and out of the hospital that year, and their primary care provider had suggested hospice care. Her mother was having trouble with congestive heart failure, among other health issues, and her father was stabilized at the moment but was still in failing health. He'd resisted hospice care at first, associating it with the end of life, but eventually agreed to it. "He never complained about things. He was worried about my mom, and he worried about being a burden," she says.
About two weeks after entering home hospice care, her father took a turn for the worse and was transported to Dove House, Carroll Hospice's inpatient facility, where he passed away a few hours later.
"I don't have the words to describe how compassionate and caring virtual strangers to us were to my dad, and when my mom came [to visit him], how they were so there for her," Chris says of the staff. "And I think that was the big 'a-ha' for me. Hospice is not only for the patient, but they're here for the family. And that's been our experience the many times we've had a loved one here at Dove House."
Weeks after Chris' father's death, her good friend and her mother both passed away at Dove House. And later that year, their brother-in-law Dave was diagnosed with pancreatic cancer. Needless to say, that year was a difficult one.
So much loss in such a short period of time was overwhelming for Chris, but she was able to call on the support of the bereavement services offered through Carroll Hospice. "We would just sit and talk," she remembers, "and to have how you're feeling validated, to have somebody say 'nobody can tell you that it's time for you to move on.' Your grief is a personal thing, and it takes time."
About a year later, the couple was inspired to give back and became volunteers, helping in Dove House and in the We Honor Veterans program, where veteran hospice patients are honored with a presentation of a certificate, pin and salute by a military veteran volunteer.
During his time volunteering, Bob has met veterans with great memories to share, such as the one who helped set up the Distant Early Warning (DEW) line in Canada to detect incoming Soviet missiles in the 1950s. "Some of these guys have been right in the middle of fascinating historical events," says Bob, a Vietnam War veteran. "They were delighted to be able to talk to somebody that could relate some."
For the Krebs, the next few years were quiet until 2014. Dave passed away, and the couple was stunned when Bob's sister (Dave's wife) Bev was also diagnosed with pancreatic cancer. "What are the odds?" Bob asks.
Overall, Bev's prognosis wasn't good. She enlisted in a clinical trial, but the cancer had progressed to the point where she needed hospice care. Even though she resided in Bel Air, Bev was able to spend her last hours at Dove House surrounded by her family.
Shortly after Bev's passing, Bob's mother entered hospice care. This time, hospice care was given in an assisted living facility, but the support was the same that they'd come to know over the years. She passed away nearly a year after her daughter's death and a month after her 92nd birthday.
Through it all, the couple has been thankful for the care and support that Carroll Hospice has provided. "There are no bounds to what they would do to ensure the comfort of not only the patient, but the family," says Chris. "They are really truly angels on Earth."
For more information about Carroll Hospice, please call 410-871-8000 or visit the Carroll Hospice website.
Pictured above: Bob and Chris Krebs