When it comes down to it, a bug bite helped detect Gayla Fulcher's breast cancer.
In August 2016, Fulcher noticed the redness from a bug bite moving up her arm. She visited her primary care doctor, who advised her to get a sonogram of the bite area—and also encouraged her to get the mammogram Fulcher had been putting off.
The 3D mammogram she had at Advanced Radiology a few days later revealed a small lesion in her breast. She sought the services of breast surgeon Dona Hobart, M.D., and the Center for Breast Health at Carroll Hospital for her care. "I wanted to go to the breast center because I liked the value of a coordinated center for breast care," says Fulcher.
After a biopsy determined it was cancer, Dr. Hobart, medical director of the Center for Breast Health, performed a lumpectomy using the Hidden Scar™ technique. This approach gives surgeons the ability to perform lumpectomies and nipple-sparing mastectomies with less visible scarring.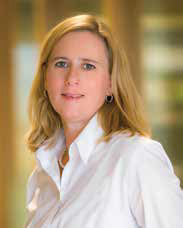 Dr. Hobart also has pioneered using this approach in placing ports in patients' chests to administer chemotherapy, which has the potential to help more than just breast cancer patients. She will be presenting a video on Hidden Scar port placements at a meeting of the American College of Surgeons in San Diego this fall.
"At my age, I wasn't as concerned with the cosmetic appearance at the time," says Fulcher, 75. "But once I realized I was going to have surgery I started to think differently."
After recovering from her surgery, Fulcher had to put on her reading glasses to see the mark from the incision. "It was just a faint little red scar," she remembers. "I was absolutely amazed that that's all it was."
As a cancer survivor herself, Dr. Hobart understands the importance of Hidden Scar breast surgery. "It's an interesting thing. It's not about the scar," she says. "It's the fact that every time you look at yourself, you have this reminder of the cancer. It's similar with losing your hair from chemotherapy. Most of the time it really isn't that you lost your hair. It's the fact that you are labeled a cancer patient everywhere you go."
This surgery may require a bit more recovery time, says Dr. Hobart, and those with other health conditions or who are not concerned about scarring might benefit from other traditional surgical methods.
Fulcher is pleased with her decision. "I'm very blessed to have had Dr. Hobart do the surgery and to have had this caught as early as it was with Advanced Radiology," she says. And now she's not shy to remind the women in her life to get regular exams. "Every time I talk to somebody, I'm sure they're getting tired of hearing me ask 'Have you had your 3D mammogram yet?' It's really that important."
With breast cancer, early detection can be key.
Schedule a mammogram* during LifeBridge Health's second annual Mammothon on Thursday, November 16. For more information or to make an appointment, call 1-888-601-WELL(9355).
For more information about the Center for Breast Health or to speak to a breast health navigator, call 410-871-7080 or visit CarrollHospitalCenter.org/BreastHealth
*Normal insurance rates apply