Carroll Hospital's mission is to be the heart of health care in our communities. Meet Tim Wu, pharmacy operations manager, and learn why he enjoys working at Carroll Hospital: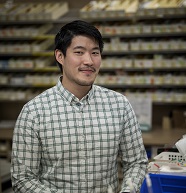 "My amazing colleagues provide patients with the best care possible. I appreciate the strong leadership and teamwork among hospital and pharmacy leadership and the ease of collaborating with other departments in completing initiatives needed to achieve our goals.
"There is so much to learn at a community hospital, as we cover a large amount of services. Always keep a positive attitude, and it will get you far in your career. And ask questions, as we are all willing to help each other out!"
Interested in working at Carroll Hospital? View our job opportunities.
Calling all registered nurses and patient care techs: Learn more about our upcoming Clinical Interview Day on July 29!