Patient care technician Barbara Aluna says she loves her job, but Carroll Hospital makes her love it even more.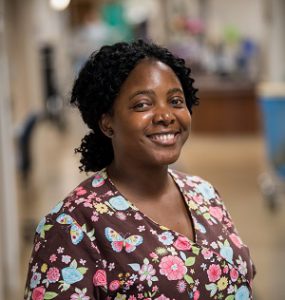 "I enjoy working here because it feels like a home away from home," she says. "The staff is very friendly and welcoming and always ready and willing to help both patients and colleagues."
Barbara has some encouraging words for those considering a job at Carroll Hospital. "To anyone starting a career at Carroll, you have made a good decision; welcome aboard," she says. "And to anyone still thinking about joining? Hurry up, because Carroll is one of the best places to work. So what are you waiting for? Join the team."
Carroll Hospital is hosting a Clinical Interview Day on Monday, January 28, interviewing for registered nurse, patient care tech, phlebotomist, lab med tech and behavioral health social worker positions. Learn more.