During my sophomore year at Winters Mill High School, I'd heard about the opportunity to become a junior volunteer at Carroll Hospital. At first glance, I assumed that volunteer work would focus around nursing and other work typically done in the health care field. This assumption was very far off.
This summer, I volunteered one day a week in the marketing department and one day a week in the Carroll Hospital Foundation office.
For my first assignment, Tyler Ridge, the multimedia coordinator on the marketing team, invited me to come on a video shoot with hospital President Leslie Simmons. Digital art and video production have always been deep interests of mine and to see this being done in a professional setting was very eye opening.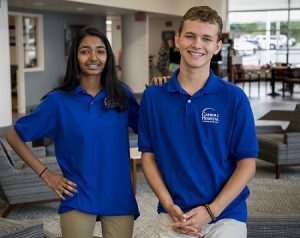 In marketing, I helped take pictures and write posts for the hospital's Instagram and Facebook pages, and I also helped out on (and participated in!) a photo shoot at the hospital. In the Foundation office, I stuffed envelopes to be sent out to associates and created PowerPoint presentations and signage for the annual golf tournament.
In many ways, the experience was like an internship. I created posts and signs that would be viewed at by people at the hospital and in the community. I witnessed firsthand that a hospital is more like a business than I assumed. The hospital's mission is to be the heart of health care in our communities, but in order to provide that, there are so many different tasks and areas that work together. I am proud to have helped my community by being a junior volunteer at Carroll Hospital.
Lucas Saunders served as a junior volunteer for the summer 2017 season. Learn more about the Junior Volunteer program.