Every year, Associates at Carroll Hospital celebrate the hospital's anniversary with SPIRIT Week.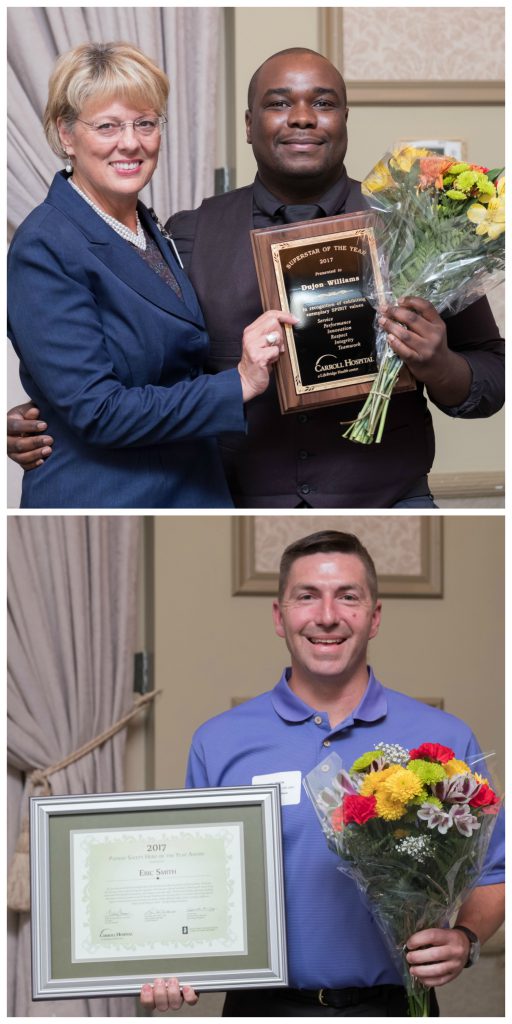 One of the highlights of this year's festivities was the unveiling of the new history wall panels in our main lobby that outline the major events in the last six years of our journey, including our partnership with LifeBridge Health and the opening of the William E. Kahlert Regional Cancer Center and the Tevis Center for Wellness on our campus.
And this week we announced our SuperStar and Patient Safety Hero of the Year at our annual Associate Recognition dinner.
Dujon Williams, a transporter who has worked at the hospital since 2013, was named our SuperStar of the Year for his compassion for our patients, his great teamwork and his positive work ethic.
Registered nurse Eric Smith in was named our Patient Safety Hero of the Year for going above and beyond his normal duties to help a patient.
Congratulations, Dujon and Eric!
At the dinner, we also recognized Associates with milestone anniversaries, including Sharon Muller, our surgical specialty coordinator who achieved 50 years of service this year! She was in good company with one Associate celebrating 45 years of service, three Associates celebrating 40 years, six Associates celebrating 35 years and seven Associates celebrating 30 years! In all, nearly 200 employees were recognized for their years of service to the organization.
This week wrapped up with a deck party in the cafeteria, where Associates enjoyed a free meal and camaraderie with their colleagues while being served by our executive team, directors and managers.
Here's to 56 years of caring for our community!