Congratulations to James Clement, M.D., named Carroll Hospital's 2017 Physician of the Year!
On Tuesday evening, Carroll Hospital celebrated our medical staff at our annual Doctors Day event.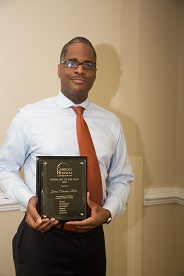 Our Physician of the Year is selected from our 12 Physician of the Month recipients. Each recipient exemplifies our SPIRIT values — Service, Performance, Innovation, Respect, Integrity and Teamwork — and provides outstanding care to our patients.
Dr. Clement is a hospitalist at our organization. Hospitalists are specialists trained in caring for patients in the hospital setting. They monitor and evaluate a patient's condition, order tests and consult with specialists, and determine when the patient is well enough to be discharged home or to another facility.
Dr. Clement has been with Carroll Hospital for less than a year, and already he has made a big impression on our patients and their families, as well as our staff. He was recognized for his extraordinary care of patients, making sure they receive the highest level of care possible. Congratulations, Dr. Clement!
Physicians and providers who are celebrating milestone years of service to the community were also specially recognized during the event, including:
35 Years
Norman I. Goldstein, M.D.
30 Years
Myles D. Brager, M.D.
Inwha Cho, M.D.
Samuel O. Matz, M.D.
25 Years
Christos M. Ballas, M.D.
Jay I. Chason, D.D.S.
James A. Dicke, M.D.
Valeriano P. Fugoso, M.D.
Jed S. Rosen, M.D.
Thank you to all of our medical staff who provide quality care to our patients every day!