We're officially less than one month away from the 8th annual Total Health Expo!
Enjoy a fun-filled afternoon of health and wellness at our Total Health Expo taking place Saturday, October 28 from 10 a.m. to 1 p.m. in Carroll Hospital's East Pavilion, located at 291 Stoner Avenue.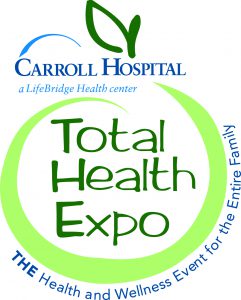 Designed to promote health, safety and well-being, this family-friendly event includes a range of activities for people of all ages.
Children's activities will include face painting, story time, interactive learning displays and more. Children are encouraged to wear their Halloween costume to the event.
Adults can experience a complementary health session (with the choice of massage, reflexology, Reiki or zero balancing), visit informational booths and participate in a whole host of free health screenings. Screenings include blood pressure, foot, diabetes, dental health, osteoporosis and vision. Advance registration is required for the complementary health sessions and some screenings, so call today!
The Carroll County Sherriff's Department will be on-site collecting expired and unused prescriptions and over-the-counter medications for proper disposal.
We hope you'll join us for this free event. For more information or to register for a health screening or complementary health session, please call 410-871-7000.